Portable Test Bench for Savety Valves (PS-T/SV5)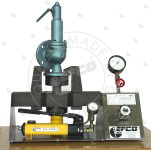 Portable valve test bench for testing safety valves DN 10 (3/8") - DN 80 (3")
Portable Test Bench (PS-T10)
Portable valve test bench for testing safety and shut-off valves.
DN 10 (3/8") - DN 200 (8")
Vertical Test Benches (PS)
PS-15 / 30 / 50 / 75
Valve test bench for testing of safety valves and shut-off / control valves
DN 15 (1/2") - DN 500 (20")
Horizontal Test Benches (PS-H)

Based on our long experience in building valve testing equipment we designed a new generation of modular test benches with horizontal clamping devices to expand our new series of modular test benches within the EFCO valve testing family.
The EFCO PS-H M series combines at a competitive price a wide field of application in valve housing strength tests and leakage tests for valve housings and seats with the accustomed high EFCO quality.
The PS-H M is available with various clamping forces starting at 200 t up to 550 t. Depending on the corresponding model water examinations are possible in combination with air or nitrogen.
Test Benches for Savety (PS-SV)
PS-SV15 / 30 / 50
Valve test bench for testing safety valves
DN 15 (1/2")  - DN 400 (16")
Automatic Test Benches (PS-A)
We offer a broad automation range. From manual starting of individual tests without evaluation of results to the automatic sequencing of several different tests with automatic checking and display of results.
PS-7,5A / 15A
Valve test benches for testing shutoff valves  DN15 (1/2") - DN250 (10")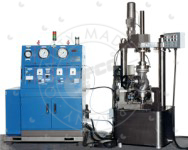 High-Pressure Compressor
For the generation of high pressure or the compression of air or nitrogen and storage in the integrated pressurised bottle at up to 350 bar (approx. 5075 psi).
Booster
The booster / high-pressure compressor is required to supply the test bench with the high-pressure air/nitrogen required for testing.
Test Documentation (VALVE-DOC)
The print-out of the test certificate on completion of a successful test is requested more and more often for safety valve tests (but also for the tests of shut-off and control valves).
VALVE-DOC
Every test carried out can be documented by the EFCO VALVE-DOC and the data entered and measured can be stored and managed for long periods.
Special Designs
We want to give you an idea of the versatility of EFCO equipment. Take a look at some of our special designs and individually adapted test benches.
Under Water Testing of Shutoff Valves (PS-H10UW)

   

PS-H10UW

Armaturenprüfstand zur Prüfung von Absperrarmaturen 

DN 10 (3/8") - DN 200 (8"), insbesondere zur Luftprüfung unter Wasser

Testing Socket Ends

Test bench for testing socket ends

Test bench for the testing of socket ends

DN 100 (4") – DN 700 (28")

Testing Motor Housings

Testing Motor Housings

Test bench for the testing of motor housings and covers

Testing Special Angle Shutoff Valves

Testing Special Angle Shutoff Valves

Test bench for the testing of 3-way control valves

DN 10 (3/8") – DN 100 (4")

Tensioner for Piston Actuators

Tensioner for piston actuators

Tensioner to tension the piston actuator spring of valve actuators before subsequent installation in the cap

Testing Condensate Drain Valves

Test bench for condensate drain valves

Test bench for the testing of condensate drain valves DN 15 (1/2") – DN 50 (2")

Testing 3-Way Control Valves

Test bench for testing 3-way control valves

Test bench for valves for the testing of 3-way control valves

DN 15 (1/2") – DN 200 (8")

Testing Refrigirant Pumps

Test bench for testing refrigirant pumps

Test bench for the testing of refrigerant pumps

Container Testing

Container testing device

For pressurisation and pressure testing of containers already pre-filled with water (standard test pressure up to 400 bar / approx. 5800 psi)

Automatic Testing of Ball Valves

PSH7

Vollautomatische Prüfung von Kugelhähnen

Luftprüfung unter Wasser

Drehmomentmessung beim Schließen

Horizontale Aufspannung

Horizontal Test Bench PS-H1500

PS-H1500

Zur Prüfung von Schiebern und Ventilen bis DN 1.000 (40")

Wasserprüfung bis 1280 bar (20.000 psi)

Gehäuseschonende horizontale Einspannung durch selbstdichtende Prüftische

Bellows Testing Device

Faltenbalgprüfvorrichtung 3-fach-vertikal

Zur Luftprüfung von Faltenbälgen

Automatischer Prüfablauf

Mehrfachaufspannung (Foto: 3-fach-vertikal)

Automatic Testing of Gate Valves

PS-H90A

Vollautomatische Luft- und Wasserprüfung von Schiebern, Ventilen und Absperrklappen DN 40–DN 600 (1,5"–24")

Drehmomentmessung beim Schließen

Horizontale Aufspannung

Erfassung von Prüflings-ID per Handscanner

Datenübergabe der Prüfergebnisse an Netzwerkschnittstelle

Proportionale, gehäuseschonende Einspannung
VIETNAM | Ho Chi Minh City |Solution Center
Lot E2-M1, IT & Automation Training Center, Hi-Tech Park (SHTP), Thu Duc City, Vietnam
VIETNAM | Hanoi| Solution Center
389A-391 Truong Chinh Street, Khuong Trung Ward
Thanh Xuan District, Hanoi, Vietnam